Do you have questions?
Call our free helpline now.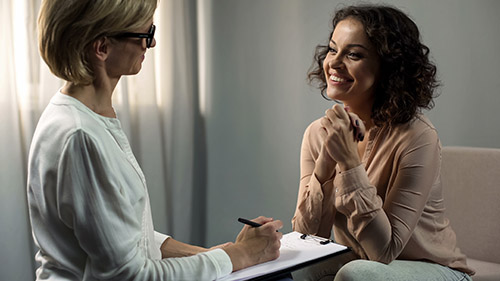 Anxiety disorders represent some of the most common mental health issues in this country. It's a condition affecting as much as 18 percent of the adult population but is highly treatable. The key is to find the right anxiety treatment program and to understand how the condition affects your life or that of someone you love. Learn how the Promises Five Palms mental health and addiction treatment center in Florida can help you today.
Anxiety Treatment Program: What is an Anxiety Disorder?
Anxiety disorder is an umbrella term for a group of mental illnesses characterized by fear and anxiety. There are different classifications of these disorders seen at an anxiety treatment program in Florida, each with its own set of symptoms such as:
Generalized anxiety disorder (GAD) – Long-term, general anxiety with no apparent trigger
Panic disorder – Sudden terror with physical symptoms
Social anxiety disorder – Fear of public judgment and avoidance of social situations
Agoraphobia — The fear of being somewhere there is no escape
Separation anxiety disorder – Fear of being separated from a person or a place
Situational anxiety – Fear of changing situations
Selective mutism – A fear of speaking in certain conditions or to specific people
Phobias are also a type of anxiety disorder. A person who is scared of heights experiences inappropriate anxiety when faced with them. Some anxiety disorders are especially debilitating and most manifest in physical symptoms like fast heart rate, difficulty catching your breath, and sweating. Anxiety, like many mental health issues, affects each individual differently and to various degrees. What is important to remember is that no matter what kind of anxiety someone is experiencing it is a serious issue for their mental health. Dismissing the distress of someone because it doesn't meet your personal standard is dangerous. In the same way, individuals need to reach out to others even if they think they can manage their issues on their own. Mental health issues like physical illnesses are something requiring professional attention to heal from properly.
What Causes Anxiety Disorders?
It might be the first question someone asks when they enter an anxiety treatment program in Florida, but there is no clear answer. Anxiety can be an inherited trait, but personal experience is a significant influence.
Anxiety can also be a side effect of medication or a symptom of the disease. Our mental health treatment program in Florida will do an assessment looking for a cause, but it's not always easy to pinpoint.
Anxiety Treatment Program: What You Should Know
Treatment at a Florida anxiety treatment program will vary based on many factors, including co-occurring mental health problems. Promises Five Palms can treat many conditions, including:
Mood disorders treatment
Personality disorders treatment
We will also assess your needs when you are admitted and determine the best course of treatment for you. Our therapies include some innovative modalities like
Eye Movement Desensitization Reprocessing Therapy (EMDR)
Prolonged Exposure therapy
Group therapy
Individual therapy
Promises Five Palms also offers individual and group sessions. We provide mindfulness training and adventure-based counseling, too. Through our continuing care planning service, the staff works with you to prepare for life after your treatment by helping you find support and resources for long-term recovery.
Although Promises Five Palms is a residential treatment program for men and women that focuses on mental health care. We also offer substance abuse treatment as a secondary to a mental health disorder like anxiety.
The facility provides a safe and comfortable living environment for healing. We offer a home-like setting with a big yard and spacious community areas. The rooms are gender-separate, and there are some private ones available.
Promises Five Palms Addiction Treatment Program
Lastly, at Promise Five Palms in Ormond Beach, FL, you also have access to an experienced in-house chef and meditation room. The dining room is luxurious and open. The furnishings are comfortable and welcoming, with plenty of seating for conversation and relaxation.
Additionally, our staff is friendly and supports you to deal with all kinds of mental health disorders, including anxiety. We're passionate about helping those with anxiety improve their quality of life.
Anxiety is a potentially disabling condition able to turn a home into a prison. If you are looking for a Florida anxiety treatment program for someone you love, contact us at 1.844.675.1022 for more information on our program. We can help.